2020 was a wild ride for everyone and the software development sector from Cluj-Napoca, Romania felt it too. SOFTECH, the 22 years software development company from Cluj-Napoca brings you a particular perspective on the struggles and benefits of 2020. Yes, we counted both positives and negatives in this year marked by the covid19 – coronavirus crash. The major positive of 2020 was that technology advancements happened at an incredible speed and the global Big Tech dominance had a positive impact on Romanian IT services providers.
IT As Cluj-Napoca's Innovation Booster: January – February 2020
With a strong inventory of successful IT companies, Cluj-Napoca entered 2020 with a rough number of ~800 software development companies.
By the end of February 2020, SOFTECH is announced as the only technology company from Cluj-Napoca, Transylvania to be listed in Europe's fastest-growing companies – FT 1000 with a CAGR of 44.1% and an Absolute Growth Rate of 199.1 % between 2015 and 2018.
In March 2020, Mariya Gabriel, EU Commissioner for Innovation, Research, Culture, Education and Emil Boc open the high level StartupCity  Conference, organized by Cluj-Napoca City Hall together with Transylvania IT Cluster.
Lockdown Life in Cluj-Napoca: March – May 2020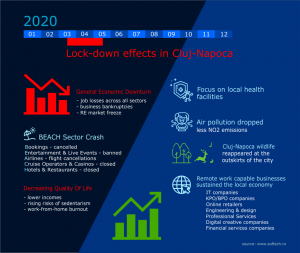 Starting with March 16 and until May 15, 2020, Cluj-Napoca and the entire country was officially under state of emergency, followed by a new state of alert period. Daily life entered a nation wide standstill. Travelling was forbidden and essential commuters were restricted to the home-to-production plant itinerary.
Important job losses and company bankruptcies in the BEACH sector – booking, entertainment & live events, airlines, cruises & casinos, hotels & resorts – of Cluj-Napoca have occurred. The government allowed only the operation of essential businesses until summer arrived.
A positive side-effect was that air pollution such as nitrogen dioxide (NO₂) emissions dropped in direct correlation with the movement restrictions. Wildlife started to re-approach the city of Cluj-Napoca. In the outer neighborhoods, such as Bună Ziua, Europa and Mănăștur, deers and wild boars started to cross the public gardens.
Cluj-Napoca Works From Home: Since April 2020
Given the 16 of March Government Decree on the state of emergency in Romania, the services industry from Cluj-Napoca was forced to find optimal ways to enable their employees to work from home or provide "physically distanced' work space. The IT industry, was one of the early adopters of the shift to its technical know-how and infrastructure readiness to operate from home or remotely.
SOFTECH's team was among the first companies to quickly encourage employees to work from home, since March 2020. The reason for doing so is that our customers from Germany, Sweden, Italy, Austria, Finland, Hungary started to enter lockdowns before Romania, therefore it was easy to understand that Cluj-Napoca will follow the trend, being a major international airport hub in South-Eastern Europe.
According to public researches, the remote working strategy has know proven benefits and struggles.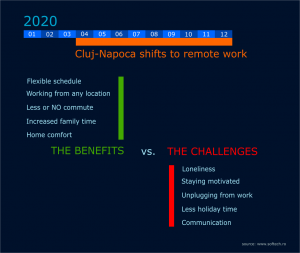 The positives of remote work:
Flexible schedule – meaning you can control roughly when to start and end your work hours, depending on your work. You must schedule your meetings, diminishing unwanted interruptions.
Working from any location – since it goes over the internet and the work is bound to concrete deliveries and timelines, it does not really matter where the person is actually doing it.
Less or no commute – brings the benefit of winning at least two hours of personal time per day, saves money with transportation and reduces commute stress.
Increased family time – being at home, you have more access to your family and vice versa. Of course this time must be properly dosed.
The comfort of the home – if your connection is good, there is no doubt that a comfortable home office set-up brings you the joys of customized space in terms of colors, atmosphere, scents and temperature. If you also have a garden or a green area close to your home, you are certainly lucky!
The struggles of remote work during 2020:
There are some technical difficulties, but mainly there are psychological difficulties when working remotely.
Feeling lonely – appears for the single youth and adults, living alone who used to count on their office environment for social interaction. Cluj-Napoca is known for its 25% share of young adult population, therefore the peril of feeling lonely was around.
Staying motivated – on the long term, working remotely is about keeping up a good rhythm and a constant motivation. For those who are mostly motivated by exterior environment and close peers, working remote may be challenging.
Unplugging from work – the sense of emergency and finishing when things are done, forces the remote worker to stay longer at the computer or connected online. Thus, the lack of physical "working schedule" makes it difficult to unplug from work. Self-discipline is essential and having other preoccupations helps a lot.
Lack of pure holiday time – due to the travel bans, restrictions for moving from one region to another or the existence of quarantined regions, made it extremely difficult to properly set in the holiday mood.
Collaboration and communication – for most of the people in Cluj-Napoca and Romania, it was something new to work remote with your team. Some syncope and delays occurred until everyone attuned to the new "virtual meeting" style. Note: This was not the case for IT workers in Cluj-Napoca since, the vast majority has been working for remote customers since most than a decade already.
Romania's IT B2B Scene Goes Online: March – December 2020
Under the predictable, yet shocking announcement made in February by the GSMA that the leading technology event – MWC Barcelona 2020 will be cancelled, a storm of event cancellations starts across Europe and the world. For any software development company from Cluj-Napoca, Romania this was a critical point when we realized that in 2020 everyone will have to rely only on the virtual, online B2B marketplace in order to find new business deals.
From that point on, our marketing efforts went in the direction of being present at relevant onine B2B meetings, conferences and fairs. A brand new experience which led SOFTECH's representatives to attend a suite of online events:
RESTART Conference For Transylvanian SME's, (Harghita, Romania) online format
R2B On AIR (Italy), online conference – Organized by ART-ER Attractiveness Research Territory from Italy in in cooperation with the Emilia-Romagna Enterprise Europe Network partners of the SIMPLER Consortium.
WomenTech Virtual Global Conference 2020 (USA) – virtual tech conference for women, minorities and their allies in science and engineering.
E²Tech4SmartCities Conference (Brussels, Belgium) online conference including: Brokerage session, E²Tech4SmartCities Pitch session 2020, H2020 Horizon Webinar.
Technology & Business Cooperation Days 2020 (Hannover, Germany) – online B2B-Meetings focused on Industry 4.0, sustainable energy & mobility.
Commit 2020 by GitLab – Virtual conference on practical DevOps strategies, innovation and collaborative technologies.
Connected Industry – Virtual Event 2020 (France) – Online conference on innovation, life sciences, the automotive industry and on topics such as Model-Based Systems Engineering
SIDO 2020 (Lyon, France) – Virtual conference, the largest European showroom dedicated to IoT, AI and Robotics.
European Reasearch & Innovation Days (Brussels, Belgium) – European policy conference, virtual public Science is Wonderful! Exhibition and innovation awards
SNN 2020 Nanosciences and Nanotechnology Seminar (Bucharest, Romania) – online conference organized by the Commission for Science and Technology of Micro-systems of the Romanian Academy with the support of European Commission
Buyer&Supplier European Matchmaking Day (Saarbrücken, Germany) – The network of the Saarland automotive industry, automotive.saarland, and the local Enterprise Europe Ne
2020 Digital ICT Week (Luxembourg, Belgium) – International online Business Meetings, virtual round tables, virtual tech exhibition
Cluj-Napoca IT Sector Assumed Its Pole Position In Leading Coronavirus Fight: April – May 2020
SOFTECH and other software development companies from Cluj-Napoca quickly adopted various local actions to help the local community fight the effect of the novel coronavirus – Covid19.
From providing sponsorship to community actions such as "Un singur Cluj" (One Cluj) aiming to provide coronavirus patients treatment facilities – hospital beds, ventilators, access to medical care to providing actual support for educational institutions while switching to the online education system, SOFTECH stayed active from a CSR perspective during the entire pandemic.
We also joined forces with peer EU innovators during the EUvsVirus Hackathon – the online pan-European Hackathon to connect innovators, partners and buyers across Europe to develop innovative solutions to coronavirus.
Creating Online Education Opportunities In IT: July-August 2020
By summer 2020, with already demotivated students due to the public online education inconsistencies, SOFTECH team has already put together its online and hybrid version of Codespring Summer Internship Program.
It proved to be a crucial turning point for students in Informatics and Computer Science since they literally enjoyed learning that for the IT industry it is normal to work remote and the infrastructure allows quite a lot of interaction with teams and colleagues.
The company also got involved in student based virtual events and hackathons, in order to keep the motivation high and get them cross this year with interesting IT projects and activities.
Cluj-Napoca, Finalist for The European Capital of Innovation Award: August – September 2020
After intense cooperation of the local ecosystem to build a common mission and guide the local partners to a common goal – that of including innovative approaches whil building a sustainable and durable new cityscape, Cluj-Napoca was nominated among the finalists for the prestigious European innovation Award.  "The European Commission announcement reconfirms Cluj-Napoca as a city of innovation, focused on Research & Development, IT and on the use of smart city technology to increase the quality of life of all its citizens. You are not innovative, if you are not inclusive.", said mayor of Cluj-Napoca, Emil Boc, upon the announcement made during the European Research and Innovation days.
Cold Season Brings New Restrictions in Cluj-Napoca: October – December 2020
After a somehow indulgent summer, when people spread in the countryside or rediscovered the joys of outdoor activities, put aside the work-from-home regime, autumn flu signs started to creep in. By the end of October, the city officials announced new restrictive measures: closure of public venues such as restaurants, cinemas, pubs, theaters. Schools and kinder gardens had to continue in hybrid mode with online-offline. By November 2, tight measures gave signs of a new lockdown. Luckily that did not happen and the city continued to function at a lower pace trying to tame this third coronavirus wave.
By this time, our software development team has already concluded that the remote work will continue for a while and all we have to do is to stick together with our business partners and make the most of this strange 2020.
The Bridge To 2021 Has Been Crossed
2020 has gone and 2021 is unfolding just now. As the old saying says "we will cross the bridge when we get to it".  So, here it is: a new year with new opportunities and new unexpected events. But let's not forget: our software development company is on the market since 1998 and we have seen some changes and crisis during these 22 years of activity. Dealing with uncertainty and ambiguity was and remains part of our daily life in South-Eastern Europe, therefore our resilience and capacity to adapt are two of our strong points.