Eurostat: Romania has the 2nd highest proportion of female ICT students (30.9%) and the 2nd highest share of female ICT employed specialists (25.7 %)
In 2019, Romania is appointed for the Presidency of the Council of the European Union. This brings more attention on the country's particularities and characteristic. Eurostat has already released a few infographics helping the public to learn a few essential facts about Romania.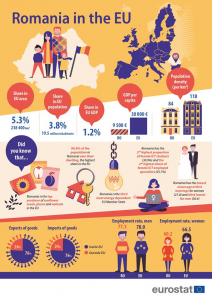 Among the highlighted elements, we found the representation of the female ICT students and employed specialist percentage in the sector. As you can see, it is one of the highest proportion in Europe and we wanted to share this with our readers and customers.
At SOFTECH, in Cluj-Napoca, we already have a rate of 32% female software developers, testers and ICT specialists.  We have a high regard for their work and are looking further to help them unfold their talent and grow.
Here we have some thoughts from our colleagues at SOFTECH.
"It totally thrills me when I have clear and visible results. Being a software engineer puts your mind at work and you incessantly grow your technical expertise. In my case, it is also a gratification the constant evolution of my own soft skills and the personal development along the process." – declares Anikó Mátis, one of our Project Managers with an experience of more than 10 years in software development.  
"The best thing is that I have the possibility to work from wherever I want. I really enjoy working with multinational teams and getting to know different people from Germany, Austria, Egypt, Kurdistan and so on. The travel opportunities are appealing and the work itself is inspiring: I get to investigate product deficiencies and to propose various scenarios." – says Piroska Lovász, Software Tester at SOFTECH. 
"Being an HR professional in an innovative and dynamic technical field like Software Development, is a rewarding experience. What I enjoy the most is that the authentic and bright people who I am working with, always keep me challenged and entertained, which encourages me to embrace creativity and leave behind the status quo. This is how I work and grow. And this is what actually makes me tick." – shares Ilona Benkő , HR Manager at SOFTECH.
 The key to our organic team growth and skills development is an authentic passion for technology, namely software development. Inner enthusiasm and self-motivation are characteristics that you will mostly find at SOFTECH. Motivated developers move projects forward more than anyone else!
The fact that our team is very open for both men and women programmers, testers and ICT specialists reflects our beliefs that any motivated person can achieve its fulfillment at SOFTECH.
Follow us for more information on this topic.